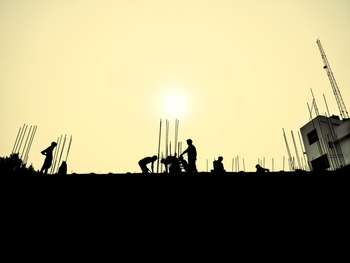 In order to work safely on construction sites in the UK it is often a requirement to hold a valid CSCS Card. To obtain a CSCS Green Labourer Card you must first complete the
CITB Health, Safety and Environment touch screen test
for Operatives.
(known commonly as the touch screen test). This test takes 45 minutes, is multiple choice and must be completed in person at a local test centre. Bookings can be made at over 150 test centres nationwide using this service.
You can find a test centre close to you by clicking here
.
It is important to note that to obtain the CSCS Green Labourer card you must take the Operatives CITB test. There are a number of different tests under the umbrella of the CITB test and these can be taken for workers looking to obtain certain other CSCS cards such as the CSCS Black card (Managers & Professionals CITB test) or the Gold Supervisor card (Supervisor CITB Test). More information on this can be found on our blog post titled 'What is the CITB Test?'
How do I apply for the CSCS Labourer card?
Book in a CITB Health, Safety and Environment Operatives test at your local test centre.
Once you have passed this test, you must complete the Health, Safety and Awareness (HS&A) Course (also known as the Health, Safety & Awareness course)
Once both of these have been completed you can then apply for your CSCS Green Card. Please note: you will need a copy of both the Health, Safety & Awareness certificate and the CITB Health, Safety & Environment score report to complete your CSCS Green Card application. Once you have completed this process and obtained your CSCS Green Card you will be eligible to work on construction sites in the UK. Your CSCS Green Card is valid for 5 years.
You can book your CITB Operatives test below:
Health, Safety and Awareness (HS&A) Course
To get a CSCS Green Card you must complete the Health and Safety Awareness qualification.
This used to mean you had to attend class room training for a full day. Now the Online Green Card Course allows you to complete the training from your computer in half the time. Once completed it is valid for a full 5 years. Why do it online?
Training in just 4 hours online
up to 100% pass rate currently
Officially accredited
No days off work needed
Complete on a smartphone or computer
Dedicated support staff
Short test from your laptop and not at a test centre
Immediate training at times to suit you
No travel needed
Book your Health, Safety & Awareness Course here: