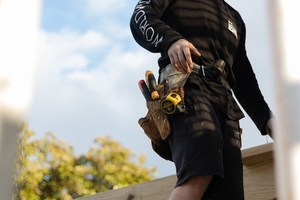 These can include:
Current/desired occupation within the construction industry
The qualifications that you hold
The specific site requirements of the construction site you are looking to work on
The requirements of an employer
No matter the CSCS card type that is desired, there is one particular type of test that is necessary for all workers to complete. This is called the CITB Health, Safety & Environment test.
What is the CITB Health, Safety & Environment test?
The CITB Health, Safety & Environment test (commonly referred to as the touch screen test) is a 45 minute multiple choice examination consisting of 50 questions. The aim of this test is to examine a candidate's knowledge across a wide range of topics to improve both safety and productivity on site. This test is a necessary requirement for construction workers to be eligible for the CSCS card and would need to have been passed within the last 2 years to remain valid.
Need to book your CITB test? You can do so on the link below:
Please also be aware that there are different types of the CITB Health, Safety & Environment test that can be taken that may be more suited to your desired occupation. More information on this can be found on our other blog post which provides further information on the CITB test:
Once you have completed this test, you will need to have evidence of a completed qualification relevant to the CSCS card you are applying for. This can vary from person to person and is again something that is influenced by factors such as the line of work you are looking to get into. For a candidate looking to obtain a CSCS Blue card for example, they would need to hold an NVQ Level 2 qualification or equivalent (such as a City and Guilds Craft Certificate). For a
CSCS Green card
, a candidate would need to have completed their
Health, Safety & Awareness course
within the last
5 years
.
If you need further information on the type of qualification you need to support your CSCS Card application, please take a look at the 'Which Test Do I Need?' section of our website:
Also be sure to check our blog post explaining what a CSCS card is as it provides further information on the types of CSCS cards we can assist you with: